Aobote participated in the 2018 China Anhui famous agricultural products and agricultural industrialization fair
Date:2019-08-09 Views:162
From September 15 to 17, 2018, China Anhui famous agricultural products and agricultural industrialization fair was held in Hefei Binhu International Convention and Exhibition Center. The theme of this agricultural trade fair is ecology, brand, openness and innovation. More than 4100 enterprises and scientific research institutions participated, including 32 enterprises in Taiwan and 19 countries and regions abroad. The exhibition is the largest agricultural product enterprise in Anhui Province, with the most exhibitors and the highest dealer level.
Hefei yijiete Intelligent Equipment Co., Ltd., as the only enterprise in Anhui province that produces color sorters and palletizers at the same time, was invited to participate in the exhibition.
On the afternoon of the 14th, Zhang Shuguang, vice governor of Anhui Province, and Yang Zengquan, deputy director of Anhui Province, came to the ejit exhibition area for inspection. Manager Ni of our company explained to all leaders the development history of ejit, the use of its products and the future development plan, etc.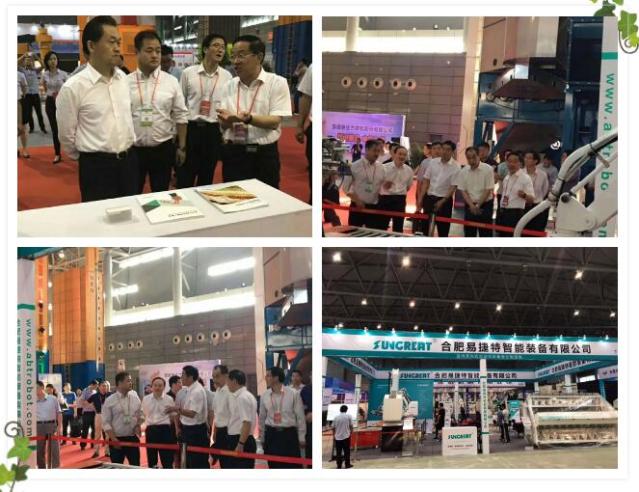 Vice governor zhangshuguang fully affirmed the business performance of ejit and the company's long-term innovation ability of independent research and development, and encouraged the company to continue to explore and innovate and make greater contributions to the national economic development and construction.
On the 15th, the agricultural trade fair was officially opened to the public, and guests entered in succession. The wonderful on-site demonstration and warm on-site atmosphere in the ejit exhibition area attracted many visitors to the ejit booth. The staff warmly introduced the products of our company and detailed the advantages of ejit in the market, which impressed the visitors. A large number of potential customers were discovered in this exhibition. In the process of exchanging business cards, more customers showed strong cooperation intention.